SMCR toolkit part 5: Post-implementation
The FCA has stated repeatedly that SMCR is about improving culture and standards of conduct, as well as increasing individual accountability and transparency. As such, it is imperative that firms take steps to assess not only whether specific changes they have introduced to comply with the regime have been successful, but also whether the regime has resulted in improved standards of conduct and genuinely increased accountability and transparency.
In this toolkit we look at the key considerations for post-implementation.
Please click below to download this guide, we hope you find it useful.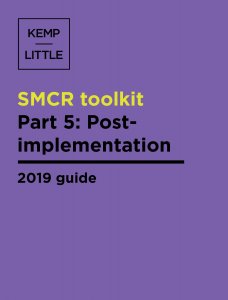 This is part of a series of toolkits.
Part 1: Education, awareness and initial decisions
Part 2: Project scoping and planning
Part 3: Solution identification and design
Kemp Little offers an SMCR support service to assist businesses in scoping and implementing SMCR.